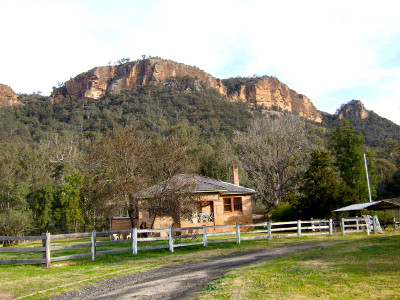 Our holiday property in the Capertee Valley, The Poplars has 2 cottages providing updated services and furnishings. The Inspectors Cottage and The General Managers Cottage at The Poplars are surrounded by the majestic escarpments of The Wollemi National Park & back onto the Colo River and the wilderness beyond.
Our cottages have been popular with Artists and Art schools, Bird watching groups, Bush Walkers and walkers, photographers and photographic groups, Photo clubs and video and music recording workshops and people who may have been connected to the old Oil Shale processing works that closed in 1952.
Historical Tours of Glen Davis Oil Shale Works:
We arrange guided tours every Saturday at 2 pm. Meet at the front gate of The Poplars.
NB: We are planning to change the 2pm Tours to a SUNSET TOUR at the end of this year.
As of December 1 2018, Summertime (Dec, Jan, Feb) Tours will be from 5:30pm – 7:00pm.
Entry Fee:
PP $15 / Family $45 (2 Adults + 2 Children)
Features
Glen Davis Works Tours
Accommodation
Bird Watching
Bush Walking
Book Accommodation
Directions from McDonald's Lithgow