Thomas Sutcliffe Mort and Refrigeration Works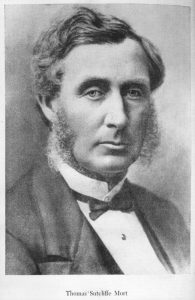 Thomas Sutcliffe Mort was born in Lancashire in 1816 and arrived in Sydney in 1838. Sutcliffe was renown for speculation in the local pastoral industry as well as industrial activities such as his Ice-Works in Sydney's Darling Harbour and dry dock and engineering works at Balmain.
Mort's links to Lithgow, relate to his attempts to develop a refrigeration works for the export of meat. As a part of his refrigeration works, Mort developed a large abattoir where sheep and cattle were driven in from the west, slaughtered and refrigerated for later transport.
In 1875, to mark his achievements in the refrigeration techniques, Mort arranged a picnic for 300 guests. He organised a special train from Sydney and fed his guests food that had be refrigerated at his plant for over 18 months (Lithgow Public School 1947). Mort, however, was to suffer numerous technical difficulties in the export of meat to overseas markets, achieving his first successful shipment in 1880.
Surplus tallow from Mort's abattoirs was used to make soap in a soap factory in Soapy Gully, later to be known as 'State Mine Gully'.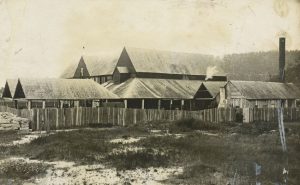 The City of Greater Lithgow acknowledges and appreciates the History excerpts taken from the Draft Economic Development Strategy for Lithgow which was researched and compiled by Economic and Community Development Class, University of Sydney October 1996