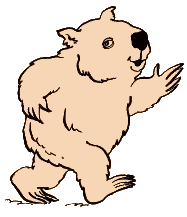 Text & Photos – Copyright © 1997
National Parks & Wildlife Service NSW
National parks are for everyone to enjoy and you can help protect and preserve them by following a few simple rules in parks.
Observe all signs.

Use bins provided or take rubbish away with you.

Don't bring nets.

Leave firearms at home.

If lighting a fire, use the fireplaces and bring your own firewood.

Observe total fire bans.

Please do not disturb plants, animals and relies as they are protected.


Please do not disturb rocks as they are important shelter for some animals and plants.