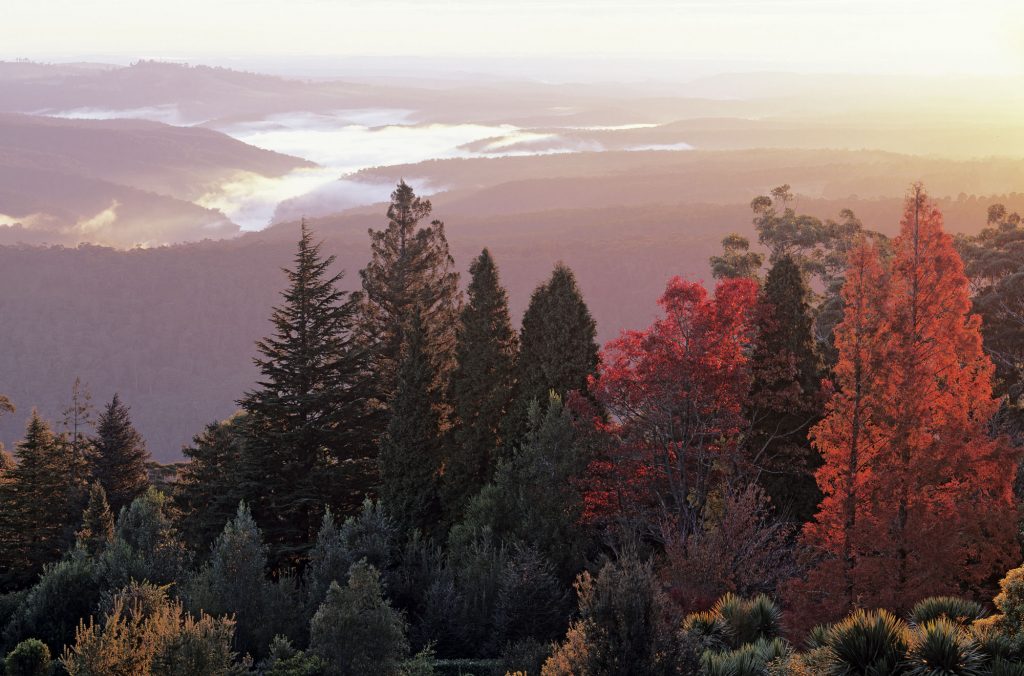 Explore Australia's premier cool-climate botanic garden and learn about the Greater Blue Mountains World Heritage Area.
Set over 252ha on the summit of a basalt-capped peak 1000m above sea level, the Blue Mountains Botanic Garden is the highest botanic garden in Australia.
Visitors can explore more than 48,000 native, exotic and rare plant species at the property as well as enjoy sweeping vistas over the mountains.
Plants at the Blue Mountains Botanic Garden are grouped by geographical origin so visitors can spot the similarities and differences between plants of each region, giving a kind of "snapshot" of their evolution on different continents. The garden contains some rare and unusual plants including the threatened Berberidopsis coralline red flowering vine from South America, many fascinating proteas and the famous "dinosaur tree", Australia's very own Wollemi pine, one of the greatest botanic discoveries of our time.
Blue Mountains Botanic Garden is also home to more than 100 species of birds, marsupials, lizards and insects. Mount Tomah provides a wonderful habitat and rich source of floral nectar all year round.
As well as wandering through the garden, visitors can explore The Jungle, an easily accessible 33ha patch of ancient Blue Mountains rainforest. Take the gently graded pathways of The Lady (Nancy) Fairfax Walk. Soak up the beauty of the ancient forest and learn how plants there adapt to low light conditions. Maybe catch a glimpse of the rainforest residents such as greater gliders, possums and powerful owls.
Blue Mountains Botanic Garden offers popular plant-themed events and festivals; guided tours; weddings, functions and conference facilities; Tomah Gardens Restaurant (one Hat); and accommodation in the Jungle Lodge which sleeps up to 10 people.
Directions
From Sydney head west towards Richmond and follow the Bells Line of Rd to Mount Tomah (1.5 hours).
OR
Take the Great Western Hwy crossing the Grose Valley at Springwood or Mount Victoria to each Mount Tomah.
Opening hours
9am – 5.30pm Monday to Friday
9.30am – 5.30pm Saturday and Sunday
Closed Christmas Day
Admission
Free entry
Features
Accommodation
Guided Tours
Nature Walks
Weddings
Functions
Restaurant
Parking
Conference Facilities
Video