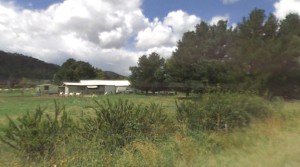 [click on image to enlarge]
Tasting and buying Jannei cheeses from the dairy door is a worthwhile diversion if you're holidaying in the Blue Mountains, Lithgow, or heading to Mudgee.

Opening Times
9am - 5pm Monday & Tuesday,
10am - 6pm Friday,
10am - 4.30pm Saturday.
Public Holiday: Ring sometimes open. ......
Facilities
Car park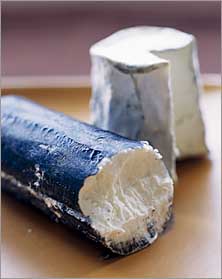 Natural: Jannei Bent Back Chevre. Photo: Jennifer Soo
Photo courtesy of Article www.smh.com.au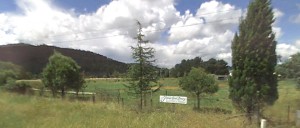 [click on image to enlarge]
Jannei Goat Dairy is a working dairy with a Cheese Processing Plant on the farm. The dairy specialises in Fresh style goat cheese but also makes semi hard style cheese as well. The dairy uses milk from its own goats to produce a range of both fresh and matured goat's cheeses. Raw milk also can be purchased at the dairy and natural yoghurt.
A free cheese tasting is available and retail sales from the cellar door. Jannei has been a member of the ASCA Australian Specialty Cheesemakers Association since 1999. Has won a total of 28 gold awards for their cheese and is currently the 2008 Grand Dairy Awards Champion Goat Cheese category winner with the Buche Noir a fresh pressed and ashed goat cheese.
Baby goats kids can be seen at the dairy from September to January. A paddock close to the Cellar door sales house kids during the day. Patting of goats is usually permissible on request. They like to be fed grass which can be picked around the outside fences. Plenty of photo opportunities. Milking of the goats is usually finishing about 10am and can be viewed through a viewing window.
The owners, Neil & Janette Watson started their cheese making in 1995. Neil started with hard cheeses in 1996, but found that his customers in Sydney really wanted fresh curd. Local chefs and retailers were delighted to have a truly local product. Neil has added many award winning cheeses such as Bent Back Chevre, Buche noir and Chevrotin. Janet makes weekly trips to the Growers Markets. The dairy has since moved on to matured cheeses as well, such as cheddar, chevrotin and goats' milk camembert.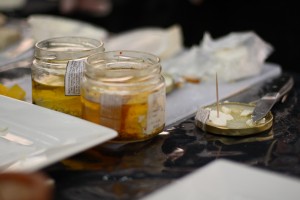 Marinated creamy goat's fetta at Jannei Dairy.
Photo courtesy of Tina's Foodie Blog