[click here for all available accommodation]
Lithgow Region towns and villages, accommodation set in some of the most beautiful and scenic locations.
Please select a town below to show accommodation availability for that area.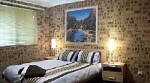 Address: 52 Mort St, Lithgow. PO Box 329 Lithgow. NSW 2790. Phone: 0421 642 699. Mobile: 0421 642 699. Email Us
Newly renovated one and two bedroom apartments. Fully equiped and self contained, featuring stylish modern furnishings, a full kitchen,washing machine/iron, TV, DVD, Stereo/CD. 52 on Mort offers a unique blend of comfort and style for the individual, small group or family for an overnight, short or long term stay. Internet: www.52onmort.com
Address: 176 Main St, Lithgow. Phone: 0421 642 699. Mobile: 0421 642 699.
Lithgow Apartments are brand new one bedroom serviced apartments in the heart of Lithgow. Featuring stylish modern furniture, Lithgow Apartments offers a unique blend of comfort and style for the individual, small group or families. Beautifully appointed with stylish modern furnishings, Lithgow Apartments offers comfort and space for a reasonable price. For your convenience there is a cafe located downstairs and a selection of restaraunts including Thai, Chinese, Indian and Ozzie pub food within fifty meters. Internet: www.lithgowapartments.com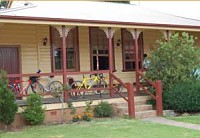 Wallerawang. Contact Rob Cluff. Phone: 02 6355 7305, Mobile: 0419 624 514. Email Us
Visit Black Gold Country Cabins and experience the holiday, sporting trip, family gathering or excursion of a lifetime! Black Gold Country Cabins cater for families and groups of all sizes providing accomodation for 3 to 20 people per room. Our maximum occupancy is 100-115. Our recently completed six motel units are perfect for a weekend or overnight stay. We specialise in trips and short stays for sporting groups and clubs, organisations, 4WD clubs, family gatherings and any group with any need. And Black Gold Country Cabins provides a quality, friendly environment that is affordable for everyone. (see also Multi Share Accommodation). MORE INFO...Internet: http://www.blackgoldcabins.com.au
Address: 3491 Canobolas Road, Glen Davis. Bookings: 02 99587311, Fax: 02 99580350, 0413963438. Email Us
There are 4 cottages available within the amazingly scenic Capertee Valley - 3 hours from Sydney. Two of the cottages, only just completely renovated are situated at Glen Davis. They are within a property which includes the "Ruins" from the old oil Shale Mining Works and lie adjacent to the Wollemi National Park and at the head of the Colo River. The scenery is stunning, comprising majestic cliffs and wilderness. The other 2 cottages are located on a property 8 kms towards Capertee Village. Again the views are quite magnificent. There is a very comfortable large house and a small cozy cabin. Both are very suitable for birdwatching, sketching, photography, sky gazing, exploration, bushwalking or just relaxing. Internet: www.birdwatching.net.au
Address: 200 Jenolan Caves Road, Hartley. NSW. 2790. Phone: 02 6355 2186. Email Us
Glenroy is a magnificent historical rural property overlooking the Coxs River in Hartley. Enjoy warm and friendly hospitality in country style cottages with luxurious interiors in a bush setting overlooking tranquil river pools. Glenroy offers five spacious country cottages, individually styled, all self-contained with plenty of room for privacy. Exciting and very stylish comfortable accommodation, with amazing views and ambience.Internet: www.glenroycottages.com
Address: Porcupine Hill, 42 Edith Road, Jenolan Caves NSW 2790. Phone/Fax: 02 6335 6239, Mobile: 0418 619 709. Email Us.
Jenolan Cabins sit high on a hill commanding spectacular 360° views over the World Heritage Blue Mountains National Park, Kanangra Boyd National Park and the Jenolan Caves Reserve. Jenolan Cabins have been specially built to fit within the environment on top of Porcupine Hill at Jenolan caves. They are earth-sheltered for climate control and clad in timber to allow them to integrate with the hillside. Comfortably furnished and well warmed in the colder months by log fires, Jenolan Cabins are an ideal retreat for all your family and friends.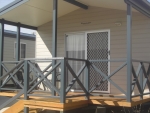 72 Main Street, Wallerawang NSW 2845. Phone: (02) 6355 7023 Fax: (02) 6355 1735. Email Us. Check Availability..
A family friendly hotel, offering quality food & beverages with that country town atmosphere. Stay overnight, for the weekend or for a longer term. One bedroom and two bedroom self-contained cabins and Hotel Rooms. Internet: royalhotelwang.com. Check Availability..
Address: Megalong Rd , Megalong Valley, NSW 2785. Phone: 02 4787 9127, Fax: 02 4787 7107, Email Us.
The beautiful Megalong Valley in the heart of the Blue Mountains is a unique rural oasis. Set beneath magnificent sandstone cliffs and only 10 minutes drive from Blackheath, Werriberri Lodge is the perfect place to unwind. Consists of six self-contained log cabins set on 200 acres in the quiet bush setting of Megalong Valley. Megalong Valley is approximately 30 minutes drive from Lithgow. MORE INFO...
Internet: www.werriberri.com
Please check with Operators before booking, rates are AU$ and subject to change without notice
For Further Information Contact Us
Click here you would like to advertise on lithgow-tourism.com